Surveys
Surveys have long been a key research tool in many disciplines, e.g. in the social and economic sciences, in linguistics, oral history research and, of course, in market and attitudinal studies. In Ancient Rome and the Middle Ages, the state of the nation was surveyed to determine material wealth of a country's inhabitants. The first attitudinal study was documented in the mid-19th century by commission of a newspaper before presidential elections in the USA. Surveys came into their own in the early 20th century. On the one hand, Gallup institutes systematically used surveys in market and attitudinal research, while on the other, numerous social surveys were carried out in the USA dedicated to studying issues of urban and rural life. Large-scale pre-election polling started in the USA in the 20s and 30s and is still used today. University research has used large-scale surveys since the 1930s and 40s.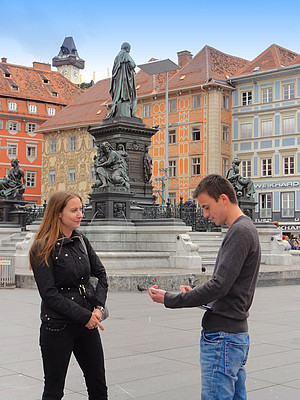 Modern surveys systematically gather information and data about participants. Most commonly, the objective is to draw generalizable conclusions about the total population which requires a representative sample. Surveys can gather attitudes, behavioral intentions, opinions, values, memories, factual knowedge, and demographic data about participants. Total surveys, asking every member of the population, are rare, so samples are used. Diverse forms of types of surveys can be distinguished: in addition to qualitative interviews (e.g., in-depth interviews), there are a multitude of quantitative surveys. We can differentiate between personal surveys (see photo) using postal, telephone-based, computer-supported or electornic mail. Each tye of survey differs by cost and time requirements, typical response rates, potential scope of survey, etc. Moreover, surveys can be classified by their degree of standardization or structures, as well as by the timing (cross-sectional vs. longitudinal surveys). If the same sample is surveyed repeatedly on the same issue, we call this panel data. This can measure changes over time. Another distinctive feature is the number of topics surveyed (special vs. omnibus surveys).
Nowadays surveys are used mainly by market and attitudinal research institutes as well as in university contexts. Survey-methodology has become a key term due to the history and scope of applications of surveys which has created a specific field of research that deals with the phrasing of question items, questionnaire and survey design, etc. In marketing and consumer behavior research, surveys are used for example for examining product and brand images, advertising effectiveness, customer satisfaction, as well as purchasing and referencing intentions.
Departmental researchers have excellent skill in designing and implementing surveys in theoretical and applied marketing research. Both bachelor and master thesis projects carry out surveys.