Tachistoscopic analysis
This term describes the measurement of visual perceptions. Tachistoscopic measurements were first mentioned in 1859. During World War Two, tachistoscopes were used for training fighter pilots in order to recognize plane shapes quickly. Since the 1970s, tachistoscopes have been used increasingly, primarily in psychological studies.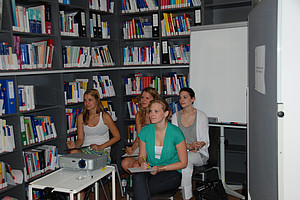 Tachistoscopic analyses either use traditional screen displays (see photo), or, increasingly, computer displays (see photo). Visual stimuli are displayed for very short periods of time, as short as several milliseconds. Participants' visual perceptions are measured for varying display times in response to questions for what was consciously perceived or what can be recalled.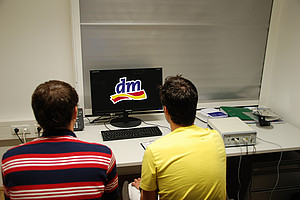 Tachistoscopes were originally used in experimental perceptual psychology. Nowadays they are also being used in consumer behavior studies, for example to test the effectiveness of an advertising medium or product packaging. Follow-up interviews with participants may examine what they noticed or recall. In our lab we use both traditional screen displays and computer screen displays to take advantage of all the potentials of tachistoscopic analysis.